---
Wednesday was National Signing Day for high school seniors and some of our own Mounts got in on the action.
Many had long since made their decisions about where they plan to continue their educational and athletic pursuits. But Signing Day is a ceremonial moment, one that comes with more pomp and circumstance each year.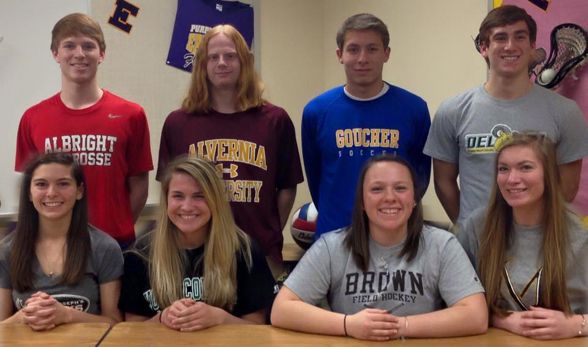 Division 1 signings
Ephrata proudly announced two signings at the Division 1 level.
Katie Hammaker will be attending Brown University and playing Field Hockey for Bears.
Kelly Liebl will be attending Saint Joseph's Universty and run track for the Hawks.
Division 2 signings
Katelyn Witwer will be attending Millersville University and playing volleyball for the Marauders.
Division 3 signings
Five Mounts will be taking their talents to Division 3 colleges.
Justin Hoover will be attending Albright College and playing lacrosse for the Lions.
Kyle Lindberg will be attending Alvernia College and playing lacrosse for the Crusaders.
Mario Murcia will be attending Goucher College and playing soccer for the Gophers.
Austin Sensenig will be attending Delaware Valley College and playing lacrosse for the Aggies.
Morgan Weaver will be attending York College and playing field hockey for the Spartans.